Article Written about the WJ Ranch - Published 1.23.16:
WJ RANCH OWNERS BRING IN ENTERTAINMENT & HOST EVENTS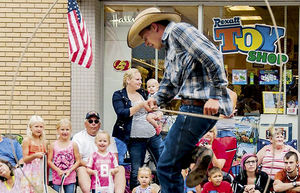 COURTESY PHOTO/PatHansenPhotos.com
The Cowboy Life
TYLER SCHIFERL, pictured , oldest son of WJ Ranch & Riding Arena owners Jan and Greg Schiferl, works as a design engineer, but he spends much of his time training horses, making leather and rawhide tack and trick roping for special events. He is seen here at Riverboat Days in Yankton, performing the Texas Skip.
Posted: Saturday, January 23, 2016 9:03 am
By ANDREA LARSON
alarson@norfolkdailynews.com
FORDYCE — Horses, chickens, cattle, a miniature pony, cats and a dog — a Northeast Nebraska family loves their animals, and they've made a lifestyle of it.
Greg and Jan Schiferl own the WJ Ranch & Riding Arena near here, 45 miles north of Norfolk and just off of Highway 81.
Jan said her family has owned and operated the ranch since 1982 and began hosting family events in 2000, following the building of their barn.
"We run about 30 stock cow/calf pairs and enjoy working with horses and their owners. ... We hold horsemanship clinics and workshops, along with hosting events for families such as our Cowboy Christmas, concert events, group tours," Jan said.
The ranch has also hosted children's birthday parties, and ballroom dance lessons are available in the winter. Small group meetings are hosted in the museum/coffee room year round.
Clinics and horsemanship workshops have been offered at the ranch since 2000. Jan said her husband once told her he believes God may have created horses to bring people together.
"We are a family that loves to share with others. Whether it be sharing ideas about making your horse into a more safe and willing riding partner, or offering a place where families can come together to experience a little of the 'cowboy way of life,' the WJ Ranch has been a place for us to do that, and we feel blessed," Jan said.
She enjoys being able to spend time at the ranch with her husband and their four children — two sons Tyler and Tanner, and two daughters, Sarah and Megan. The three oldest children are married and no longer live at the ranch, while the youngest is currently in high school.
"I think one of the greatest blessings is having our children all return to the ranch when we have a large event and all working together to make it happen. What a gift that is. Each of our children have specific talents, and when we all work together, we not only enjoy being together but hopefully those attending enjoy that family atmosphere as well," Jan said.
One such event, the annual Cowboy Christmas, is held the weekend after Thanksgiving and is the perfect time for families to discover the cowboy lifestyle.
During Cowboy Christmas, the ranch offers buggy and pony rides, Model T rides, family activities, kids crafts, trick roping shows, a visit from Santa Clause and a large store featuring arts and crafts from over 60 sources.
Entertainers who have performed at the ranch over the years include Michael Martin Murphy, Riders in the Sky, Red Steagall, John Berry, Mark Wills, Teea Goans, Ty Herndon, Dan Tyminski, Ronnie Bowman, Baxter Black, Yvonne Hollenbeck, Wylie & the Wild West, and Suzy Bogguss. Bogguss will again perform at the WJ Ranch on Sept. 9, and everyone is excited for the show, Jan said.
Other upcoming events include three sessions of winter dance lessons on Jan. 23, Feb. 20 and March 19, at 6:30 and 8 p.m. each night. The lessons are instructed by Jan and Greg's daughter, Sarah Baltzer, who is a dance instructor from the Fremont area. Baltzer teaches the jitterbug, the waltz, the fox-trot, the two-step and other dances.
A spring horsemanship workshop will be held in May, Jan said.
"Sometimes, we get calls from people who are doing better with their horses and having more successful riding experiences after one of our workshops or clinics. We are always happy to hear that," Jan said.
Other events include Cowboy Church on Sept. 11 and a trail riding workshop at the end of September. Cowboy Christmas this year will be held on Nov. 26-27.
"We enjoy the people and the time we can spend with them. We feel thankful that the WJ may be an avenue for people to come enjoy time with their family or their horses. ... We invite everyone to give us a call and come visit the ranch. As we say, 'the coffee's always on!' "
Want to learn more? Visit www.schiferlswjranch.com and find the ranch on Facebook at Schiferl's WJ Ranch & Riding Arena.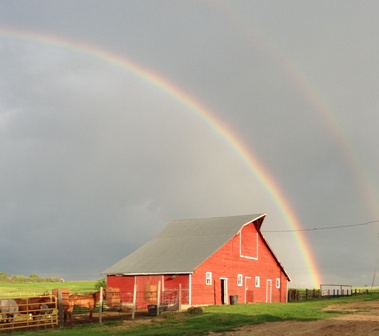 Our beloved "Red Barn" was lost in a fire on 10.12.14. This picture captures the barn in all of its glory. We lost hay, straw, feed and most sadly, our small purebred 4H poultry flock, rabbits and some kittens. Our hearts are sad, but we know that life takes turns sometimes and we believe our Heavenly Father is there with us through it all. We are truly grateful that our family, home, horses and cattle were not hurt and we give thanks.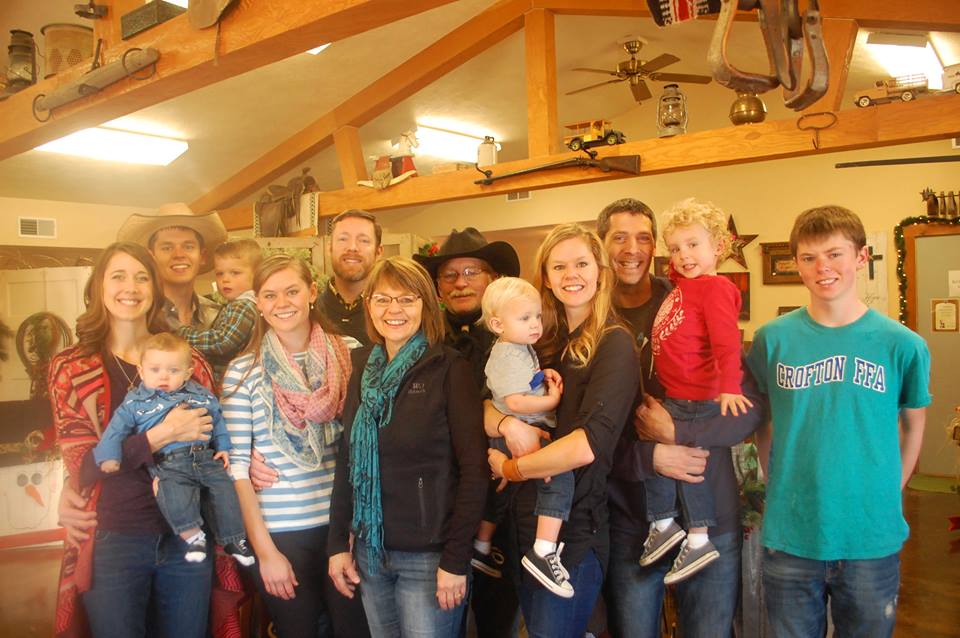 Our Family (L-R:Jaime,Benson, Tyler, Grayson, Megan, Dana, Jan, Greg, Tristan, Sarah, Tom, Will, Tanner)
OUR STORY:
Little did we know that the purchase of Flint over 20 years ago would change our lives forever. Flint was a 2 year old grade Draft cross that we thought would make a great cattle horse someday....his size and muscling looked full of promise. What we didn't know was that his owner had abused and mistreated him in his first two years of life. It was years later when we learned that his owner had even chased him into a makeshift barn a few months before we bought him and six men manhandled the horse and threw him to the ground and held him there to geld him. There were no tranquilizers, soft hands or gentle thoughts used, only loud men with ropes and gloves. Fast forward a year later when Flint was 3 and had grown into a big, strong gelding. Greg began working with him and eventually proceeded to put the first rides on him. Flint could buck like no other horse we had ever seen. He would seem like he was doing okay but just the slightest wrong movement would make him feel the need to "unload"! And unload he did. (At one point, there was even discussion and offers for him to be sold as rodeo stock!) One day, after being thrown for yet another time, Greg came in the house and said "Jan, I am either going to quit riding horses or figure out some other way. What I'm doing is just not working!".
It was then that we started searching for other ways to ride and handle our horses. We started going to different clinicians, finding some things that we thought might help and others that we knew wouldn't. When Greg met Tom Dorrance, he indeed knew there was something "more"! Greg has since said that "Shaking the hand of Tom Dorrance" was an honor and something he will never forget. We also met Harry Whitney, and we knew we were on to something. Soon after those meetings, we met Ray Hunt. The instant Greg saw Ray and watched him ride for the very first time, he knew that he wanted to work at attaining a level of horsemanship beyond what most are happy to have. It was Ray who helped send our family on a life-long jouney that we are enjoying tremendously. Greg, Tyler and Megan had the chance to ride with Ray many times, even spending time during two separate summers on his ranch in Idaho. We have hosted Ray here at our ranch 2 times and we consider ourselves very blessed to have known him and Carolyn. We also have hosted clinicians as Bryan Neubert, Lee Smith, Larry Talsma, Jesse Munk and others.
This journey of achieving a higher level of horsemanship skill to make riding more enjoyable for both our horses and our family has become a passion for our family. In the year 2000, our barn and riding arena were built to help promote this way of thinking for horse owners. We enjoy meeting people and their horses and enjoying sharing some of what we are learning. We believe that the horse isn't the one who is wrong. A horse is just being a horse when it does what it feels it has to do. Many people just don't understand the horse or have the ability or skill to anticipate or expect what might be coming nor are they always able to communicate what needs to be said so the horse can understand. They don't know how to make a horse feel comfortable.
Oh, and Flint? He was always been Greg's favorite horse to ride on the trail, rope calves in the pasture or drag calves to the branding fire. He lived out the rest of his working life as a ranch horse in Montana. A very happy home for a great horse that most people would have given up on for sure because they "just didn't know"......